heating systems
cooling systems
air quality systems

We Sell Air Conditioner Covers
If you would like to protect your outside condenser from snow, ice and leaves, we have custom-built covers to fit any brand, model, age or size, in a wide variety of colors (black, gray, navy blue, beige, brown, teal, chestnut, maroon and evergreen). $59.95 plus tax. Please contact us.
Bryant Central Air Conditioning Systems



Bryant 593C Central Air

Bryant 593C. No Gimmicks, No Hype Just Reliable Cooling and No-nonsense Quality.

When you've been working all day in the sweltering heat, the last thing you need is to come home to an uncomfortable house and an unreliable air conditioner. With Bryant's Model 593C, you can count on relaxing in cool, soothing comfort without being interrupted by noisy operation or worrying about rising utility bills. The proven design and sturdy construction of the Model 593C air conditioner make this affordable unit a smart choice for comfort, energy-efficiency and long-lasting reliability.
Improved Air Flow Increases Comfort And Efficiency.
Just because the outdoor temperature rises, doesn't mean your indoor temperature or utility bills have to. Designed to deliver 10.0 SEER (Seasonal Energy Efficiency Ratio) or better, the Model 593C air conditioner will keep you comfortable without costing you an arm and a leg. Bryant also designed the Model 593C air conditioner for quiet operation because we understand how important your indoor environment is when you're spending time with your family. Our Aerocoustic design makes your new air conditioner quieter by moving air more efficiently. The condenser fan motor is

totally enclosed to ensure quiet operation and greater reliability. The smooth-running compressor rests on cushion pads which help eliminate noisy vibrations. All of these special design features mean extra comfort, money-saving efficiency and quiet operation for you and your family. At Bryant, we understand that quality home comfort equipment is an investment. That's why the Model 593C is constructed with proven components. Built from top-quality, corrosion-resistant materials, the Model 593C air conditioner is a smart investment in your family's comfort.
---


Bryant 598B Central Air

Bryant 598B Two-Speed Puron Plus. Consistent Comfort Now, and in the Future.

Since the early 1900s, Bryant has offered home comfort products and systems designed to provide lasting comfort and value. It's a company that has kept a watchful eye on the needs of American homeowners like you and consistently delivered the technology to meet those needs. That tradition continues today with the Two-Speed Puron® Plus air conditioner.
Bryant's Two-Speed Puron Plus combines the all-out comfort, quiet and humidity control of our two-speed products with the environmentally sound properties of Puron refrigerant. Designed, built and backed by America's most trusted name in comfort, the Two-Speed Puron Plus is the perfect choice for you and your family. Features Two-Speeds provide even, consistent temperatures. It's amazing how adding an extra speed can extend the performance of an air conditioner. In fact, it's like having two systems in your home—one for standard, everyday conditions, and a second, more powerful system for those extra-hot days of summer.
The Two-Speed Puron Plus operates on low speed up to 80% of the time. Low speed operation allows the system to circulate cool air throughout your home for longer periods of time, creating even, consistent temperatures in every room. These longer cooling cycles also help remove humidity from your home to make you feel even more comfortable at the same temperature setting. When rising outdoor temperatures call for extra cooling inside, the Two-Speed Puron Plus automatically shifts to high speed to maintain your comfort.
---

Unico Air Conditioning Systems. The Best Fit For Your Total Comfort.
Your home is your castle. Let the Unico Systems keep your castle comfortable. Or if not your castle, then maybe it's your bungalow, brownstone, or Victorian. Perhaps it's a design the world has never seen before.
Whatever your home's style, the Unico System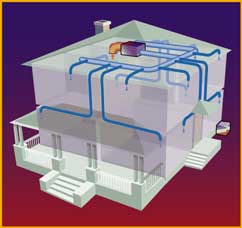 is the perfect fit. A superior heating and cooling system, its innovative "aspiration" system warms and cools your house evenly and quietly. Its revolutionary flexible mini-ducts weave through the smallest spaces—ceilings, walls, even floors—so there is no need for costly, messy renovation. Once installed, you'll hardly notice the Unico System. All you'll know is that your home is perfectly comfortable—warm in winter, cool in summer, quiet all year round. You'll feel more at home, and because the Unico System provides this comfort without intrusive construction that compromises the architecture of your house, even your home will feel like royalty.
Unico System's unique cooling method removes 30%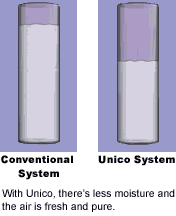 more relative humidity from the air than traditional forced air systems. It draws, rather than pushes, air directly over the evaporator coils, creating colder temperatures than conventional systems. This means that even in the warmest, most humid months the air in your house will be dryer, more comfortable. And, in colder times and climates, the Unico System delivers comfortable hot air in one of two ways - using either a hot water coil or true-hot-air heat pump coil—never the scorched air method used by most conventional forced-air systems. Perfect comfort year-round.
Unico System's "aspiration" delivery method allows streams of air to gently mix with existing room currents

to keep the air moving efficiently and evenly, much the same way a whirlpool jet mixes water. No hot and cold spots, no drafts, never more than a 2oF temperature


variation from floor to ceiling.
The system is completely sealed, with no large registers to trap hair or dust, so the air in your house will always be fresh and clean. The Unico System's sound-dampening air handler and supply tubing ensure you will never hear your heating and cooling system, only feel its superior comfort—because it's not only your home that should be treated like royalty—you should be too.
Superior Comfort: Independently Verified
A recent study by the Oak Ridge National Laboratory in Tennessee to test the relative comfort levels of mini-duct, high-velocity air delivery systems and conventional forced-air systems concluded that the Unico System consistently provides superior comfort over traditional systems.

The Unico System is the perfect heating and cooling system for restored houses. Featured in ten projects on television's This Old House, the Unico System is the superior choice for heating and cooling renovated homes. No gutting required: the mini duct-work of the Unico System is so small and flexible—one-third the size of conventional sheet metal ducting—that it fits right into the existing construction of your home, architectural integrity with soffits, dropped ceilings, or other unsightly additions.
The Unico System is as subtle on the walls as it is within them. Its small outlets will not streak and stain as conventional metal registers, and blend perfectly into any decor. Paintable or stainable, outlets are available in round 5-inch or slotted 1/2-inch by 8-inch versions, and come in a variety of colors, finishes and wood species.