| | |
| --- | --- |
| large residential, light commercial systems | |
Mitsubishi Electric Mr. Slim® P-Series
The P-Series Mr. Slim units deliver flexible and convenient air conditioning solutions to almost any commercial or large residential setting. Whether in a church, an office building, a school, a nursing home, a restaurant, a retail store, or even an equipment room, the compact design of the P-Series indoor unit makes cooling difficult spaces a breeze.
With wall-mounted , ceiling-recessed , and ceiling-suspended options, the P-Series is the perfect solution for almost any application. The P-Series provides up to 42,000 Btu/h of cooling or heating.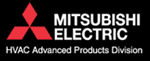 Flexible Control Options—Convenient and efficient zone
control means you can air-condition only the spaces that are in use. You can control each individually or up to 50 different units from a single remote controller. And the flexible control design of the P-Series means that you can have single or dual controllers connected to one system. The controller
does not even have to be in the space shared with the indoor unit.
Low Ambient Operation—This feature allows for a space to be air-conditioned by the PU line of products even when it is 0° F outside. This feature is important when dealing with electronic equipment rooms, telecom substations, surveillance mechanical rooms, restaurant kitchens, and more. The wind baffle accessory is required when PU models are installed in low ambient applications below 23°F.
Redi-Charged Systems—P-Series outdoor units come with enough refrigerant to be installed up to 100 feet away from the indoor units. Line sets can be run to a maximum distance of 164 feet when additional charge is added. (PUG/H-AYB)
Easy Controller Connections—Only two non-polar wires are needed to connect the remote controller to the indoor unit, a feature which helps avoid installation errors. The connection wires can also be extended up to 1,650 feet.
Service—All P-Series outdoor units are designed with easy service and maintenance in mind. Maintenance points are located behind easy-access panels to make installation and servicing a breeze for a trained technician. Four-way piping access allows connection in four directions: front, rear, right, and base. (all PU/PUH models) P-Series indoor units incorporate a washable filter design, meaning less filter replacement headaches.
---
PK/PKH Wall-Mounted Series. Cooling or Heating from Compact, Wall-Mounted Package.
Like the MS/MSH wall-mounted models, the PK/PKH-Series


fills larger spaces with substantial cooling or heating from a compact, wall-mounted package. Walk into any room where a PK system is installed, and all you'll notice is the perfectly comfortable climate. What you may not notice is the unit itself, for it mounts high on the wall and blends into the space.
Auto Flap Shutter—With a simple flip of the Off switch, the vane closes to cover the air outlet for a clean presentation while not in use. During operation the vane can be adjusted or will automatically adjust itself to the perfect position to direct the airflow to the floor in heating mode or horizontally in cooling mode, keeping the room temperature even and comfortable.
Slim Lightweight—Indoor Unit Design The largest PK unit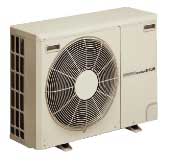 measures only about 66" wide, 13" tall, and 9" deep and weighs 66 pounds. This feature allows for easy installation high on any wall and above windows and doorways. In most cases just two people can do the installation quickly.
Easy-Clean Filters—Convenient tabs enable the washable filters to be quickly and easily removed for fast cleaning. You won't need to replace the filters as often as with other systems, saving money and time.
Easy to Install—Mr. Slim® PK-Series models require no ductwork. They don't need a huge hole cut in a wall unlike a motel-type or window unit. In fact PK-Series systems install into the toughest spaces even in brick and block walls because only a small 3-inch round opening in the wall or ceiling is needed.
Ultimate Comfort Meets Ultimate Convenience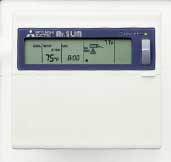 The hand-held Mr. Slim LCD wireless remote controller is
easier to use than most TV remotes. The set-temperature display is large and easy to read. Using the 24-hour timer, operation can be set to start and stop at specified times and to repeat daily. And the convenient remote provides easy control of the Fan Speed as well as the Cool, Heat, and Dry modes from anywhere in the room.
---
PC/PCH Ceiling-Suspended Series. 24,000 to 42,000 Btu/h Capacity Powerful heating and cooling performance is what the PC/PCH-Series is designed to deliver.
This ceiling-suspended unit delivers enough cold or hot air to


make any space more comfortable. Manually adjusted jumbo swing louvers direct the airflow left or right, covering the entire space quietly. Accessory filters are available to increase efficiency and increase the time span between service calls. The PC/PCH Series is perfect for restaurants, kitchens, and other large commercial spaces where ovens and other equipment add to an already taxed heating or cooling load.
Auto-Angle Airflow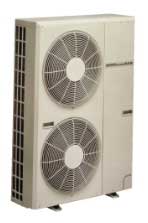 With the wired remote controller, four different airflow positions can be set. When using the Autovane mode during Cooling, the angle self-adjusts into a horizontal position to circulate cold air more effectively. During Heating, the vane forces the hot air downward toward the floor, where it will rise and circulate, keeping your room comfortable from the top to bottom. All Mr. Slim PC/PCH-Series models come with a wired remote controller that puts you in command of your comfort.
Fresh Air Intakes
With minimal on-site work, ducting can be installed to bring in outside air, creating a healthier indoor environment.
Automatic Cooling/Heating Changeover (Heat Pumps)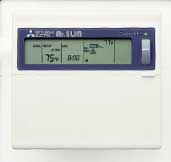 When set to Auto PCH units will automatically switch back
and forth from cooling to heating to compensate for the drastic rising and falling temperature in a room. This feature means total hands-free comfort and efficient conditioning of your space.
---
PL/PLH Ceiling-Recessed Series Heating and Cooling. 12,000 to 42,000 Btu/h Capacity.
If there's at least a foot of space above your ceiling, the PL/PLH Series is for you. The PL/PLH Series combines powerful cooling and heating in an elegant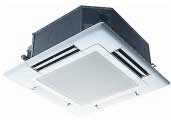 cassette design that recesses into the ceiling. When installed, the attractive, flush-mounted grille is all you see. With its fresh air intake capability and four-way discharge airflow, the PL/PLH Series gives you plenty of fresh, comfortable air. There are even branch duct knockouts for either a round or a rectangular duct, allowing for the conditioning of a smaller adjacent space. All these features are in a versatile, attractive design made to disappear discreetly into the ceiling.
Easy-To-Maintain Long-Life Filter—The washable filter provides about 2,500 hours of use in a normal office environment before cleaning is needed.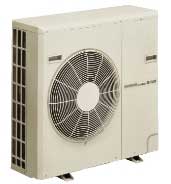 Auto Cooling/Heating Changeover—PLH heat pump units will automatically switch back and forth from cooling to heating to compensate for the drastic rising and falling temperature in a room.
Customize The Airflow Pattern to Meet Your Needs—The PL/PLH offers 2, 3, or 4-way outlet selection, enabling effective air conditioning in places such as halls, showrooms, and shopping malls. Note: An optional air outlet shutter plate is necessary for 2 or 3 way airflow setting.
Easy To Install—PL/PLH units are about 40% lighter than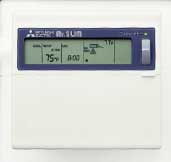 previous models, making suspension work easier. The height can be adjusted without removing the grille through the corner pockets.
Drain Lift For Condensate Water Disposal—A built-in high-performance drain pump means improved condensate water disposal. The pump lifts the water up to 33 inches above the unit to help simplify drain piping. A built-in drain sensor shuts off the indoor unit if a drain is clogged or if in the unlikely event the pump malfunctions.