heating systems
cooling systems
air quality systems
CoRayVac® Low-intensity Continuous Infrared Heating System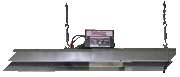 Virtually unlimited design options from custom engineered system. Fuel savings and enhanced user comfort provided by burners in-series design. Excellent efficiency and ideal combustion from zero regulator incorporated in state of the art burner design. Maximizes useable space with low clearances to combustibles. Extra safety feature with zero regulator design. Reduced building penetrations as a result of multiple burners per pump. Environmentally friendly - meets stringent emission standards.
Learn more about CoRayVac® Space Heater at RG Roberts Gordon.
Available on this site are technical specifications, installation and service manual.
---

Empire High-Efficient Heaters—Attractive Styling With Ease of Use
The Empire High-Efficient DV-20E (20,000 Btu), DV-40E (40,000 Btu) and DV-550E heaters' attractive styling gives any room a contemporary look. Space-efficient and


easy to use, the unique design makes them cool to the touch, meeting or exceeding all American National Standards Institute temperature tests. A top-mount control compartment allows you to simply flip the switch to "on" and turn to your desired temperature.
---

Modine Hot Dawg®—Leading the pack in compact unit-heater versatility, performance and value!
Available in the right size for just about any residential application

Certified for residential, commercial and industrial use

Quiet operation

Attractive low-profile design and neutral paint scheme assure that Hot Dawg will blend inconspicuously into any garage decor

Durable polyester-powder paint maintains life-long good looks

Standard power exhaust simplifies side-wall or roof venting with small-diameter vent-pipe

Versatile design allows for right or left-hand piping and installation. Gas, electrical and flue connections can be changed from one side to the other by simply flipping the Hot Dawg over

Lightweight, easily installs from ceiling with only 2 angle brackets (included)

Installs quickly and easily with field wiring connections and knockouts for quick access to gas and electricity

Designed for natural gas or propane gas

Sealed, permanently-lubricated motor for trouble-free dependability

Full 10-year warranty on heat exchanger

Learn more about the Modine Hot Dawg (pdf)
---

Reznor V3 Series UDAP
Gas-Fired Unit Heater

Reznor® V3 Unit Heater

Reznor V3 series model UDAP gas-fired unit heaters are available in 14 sizes ranging from 30,000 to 400,000 BTUH gas input. Sizes 30-125 are approved for residential application. All sizes are approved for commercial/industrial installations. Model UDAP heaters are designed for 82-83% thermal efficiency and are approved for installation in the United States and Canada by the Canadian Standards Association (CSA).
| | |
| --- | --- |
| Reznor V3 Series unit heaters have a refreshing new appearance with a glossy white cabinet finish, unique REZNOR mitered corner and less visible hardware. Each size cabinet is easily suspended from either 2 or 4 | |
suspension points, or an optional hanger kit for all sizes allows for ceiling mounting. The low voltage terminal strip on the outside of the cabinet makes connecting control wiring easy with no panels to remove. The addition of a "G" terminal to the strip, along with the new design of the circuit board, allows for fan only operation (without adding relays). All units have a factory installed gas line nipple to the exterior of the cabinet for easy gas service connection.
The preeminent new internal feature is the T-CORE2® heat exchanger and single burner combustion system. Other standard features include a single-stage gas valve, multi-try direct spark ignition with 100% lockout, pressure switch to verify vent flow, resiliently isolated venter motor, venter wheel with improved housing, resiliently isolated axial fan and motor assembly and a high temperature limit control. Sizes 30-125 also include a flame rollout safety switch. Operation is controlled through an integrated circuit board. The circuit board monitors heater operation and has LED diagnostic indicator lights to identify abnormalities in control functions.
The new V3 series unit heaters are designed to provide all the features you expect in a Reznor heater plus improved efficiency, easier installation and a new look - both inside and out.
---
Rennai EnergySaver

Rinnai® EnergySaver

Rinnai's EnergySaver, the most technologically advanced direct vent furnace on the market today, was designed for your family with comfort, safety and energy saving features. The EnergySaver family has a Smart 7-stage modulating gas valve and blower control that adjusts the heat output up or down to maintain
room temperature both quietly and efficiently.

Learn more about Rinnai innovative gas products.