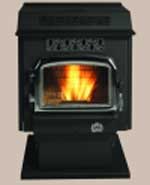 The St. Croix 'Auburn'
St. Croix Corn Stoves
More and more people are choosing to burn corn to heat their homes- and for good reason! Corn is cost-effective, safe, clean burning, and convenient. Choosing a St. Croix corn stove as your home heating solution is a smart decision. We have 100+ years of combustion engineering and manufacturing experience. As a result, St. Croix corn stoves are unsurpassed in their reliability and combustion efficiency.
The St. Croix Corn Advantage

St. Croix Clinker Removal System—It eliminates the need for complex stirring systems and the need to shut down the stove for cleanouts. St. Croix corn stoves let you remove clinkers while the stove is burning.
Digital Stove Control Panel—Touchpad ease. Digital precision.
Convenient Ash Drawers—All St. Croix units feature front access ash drawers. Nonstop clinker removal means you do it while the stove is burning.
Easy to Fill Corn Hopper—High capacity and easy access.
Environmentally Friendly—With clean-burning corn as your energy source, you create fewer emissions than conventional fuels. You also become more independent from traditional fuels, saving you money on heating.